The choice between frameless and framed shower doors depends on personal preferences, budget, and specific bathroom design considerations. Here's a comparison to help you make an informed decision for
Shower Door Suppliers
:
Frameless Shower Doors:
Pros:
Modern and Elegant Look: Frameless shower doors offer a sleek and contemporary appearance, creating a visually open and spacious feel in the bathroom.
Minimal Maintenance: Frameless doors have fewer nooks and crannies where dirt and grime can accumulate, making them easier to clean and maintain.
Design Flexibility: Frameless doors can be customized to fit various shower configurations and sizes, allowing for more design flexibility.
Better Visibility: With no visible frames, frameless doors showcase decorative tilework and interior shower design, providing unobstructed views.
Durability: Frameless doors are often made of thicker and tempered glass, providing excellent durability and resistance to breakage.
Cons:
Higher Cost: Frameless shower doors generally have a higher price tag compared to framed doors due to the use of thicker glass and more intricate installation requirements.
Water Leakage: Frameless doors may have slightly higher chances of water leakage compared to framed doors, as they lack the additional seals and framing.
Framed Shower Doors:
Pros:
Cost-Effective: Framed shower doors are generally more budget-friendly compared to frameless options.
Easy Installation: Framed doors are easier to install, often requiring basic DIY skills and tools.
Enhanced Water Containment: The frames and seals of framed doors provide better water containment, minimizing the chances of leakage.
Wide Variety: Framed doors come in various designs and finishes, allowing for more style options to match bathroom aesthetics.
Cons:
Visual Obstruction: The frames of framed shower doors create visual barriers, potentially making the bathroom feel smaller and blocking tilework or shower design.
More Maintenance: Framed doors may require more cleaning and maintenance, as water and dirt can accumulate in the frame corners.
Limited Design Flexibility: Framed doors may have limitations in terms of customization and design options compared to frameless alternatives.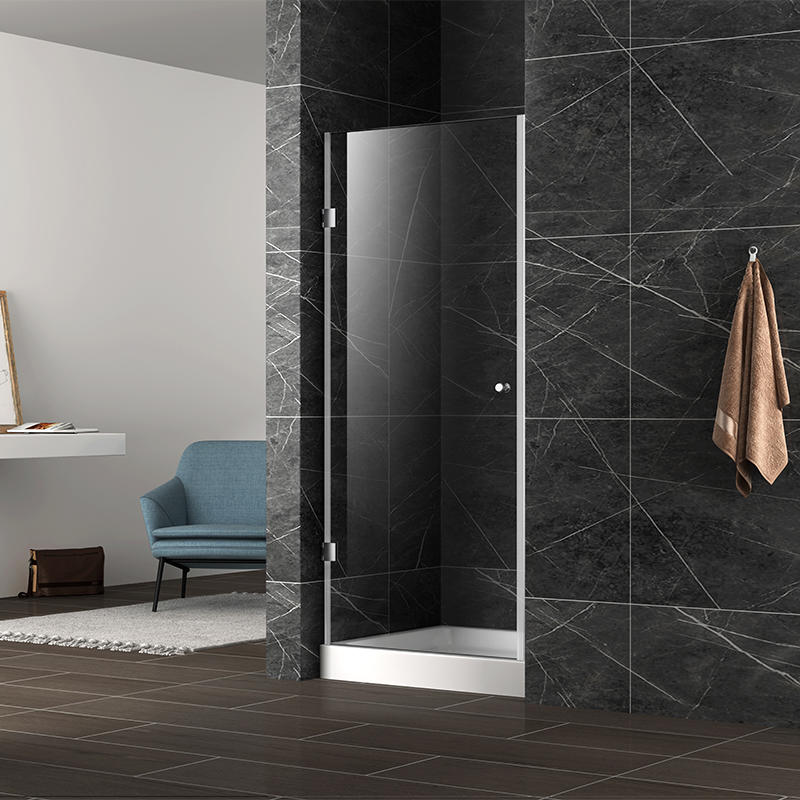 Product model:WTM-03251
Material: 304ss
Door type: Hinged
Handle: Optional
MOQ:20pcs
Pallet: Optional
Package:Standard Carton
Delivery time: 30-45 days
Function: showering
Finish:Polish
Glass thickness: 8mm/10mm
certificate: ANSI, ISO 9001:2015
Finished openings widths: 600-900mm(24"-35")