Installing a soaking tub requires careful consideration to ensure a seamless experience. Here are several factors to keep in mind for a successful soaking tub installation:
1. Space and Size: Evaluate the available space in your bathroom to determine the appropriate size and dimensions of the soaking tub. Consider factors such as the room layout, doorways, and any potential obstacles that may affect installation. Ensure that the selected tub will fit comfortably within the designated space without compromising accessibility or functionality.
2. Plumbing Requirements: Review the plumbing requirements for the soaking tub installation. Determine if any modifications or adjustments to existing plumbing systems are necessary to accommodate the tub's specific design and installation requirements. Consult a
Deep Soaking Bathtub Suppliers
if needed to ensure proper installation and compliance with building codes.
3. Floor Reinforcement: Soaking tubs can be heavy, especially when filled with water. Check the structural integrity of the bathroom floor to ensure it can support the weight of the tub. Reinforcement may be required to provide adequate support and prevent any potential sagging or damage to the floor over time.
4. Accessibility: Consider the ease of access to the soaking tub. Ensure there is sufficient clearance and maneuvering space around the tub for comfortable entry and exit. Also, take into account the placement of fixtures, such as faucets and controls, to ensure they are conveniently located and easily reachable.
5. Water Supply and Drainage: Verify the location of existing water supply lines and drain pipes to ensure compatibility with the soaking tub's specific requirements. Plan for proper water supply connections and drainage systems to ensure efficient filling and emptying of the tub.
6. Ventilation: Adequate ventilation is essential in a bathroom, especially with the installation of a soaking tub. Proper ventilation helps prevent moisture buildup, mold, and mildew growth. Assess the ventilation system in the bathroom and consider installing additional ventilation if needed to maintain a healthy environment.
7. Electrical Considerations: If the soaking tub includes features such as jets, lights, or heating elements, ensure that the necessary electrical connections and outlets are in place. Consult a licensed electrician to assess and address any electrical requirements for the tub installation.
8. Installation Method: Different soaking tubs have specific installation methods. Consider whether the tub requires freestanding installation, alcove installation, or any other specific mounting requirements. Follow the manufacturer's installation guidelines and consult professionals if needed to ensure proper installation.
9. Waterproofing and Sealing: Proper waterproofing is crucial to protect the surrounding areas from water damage. Ensure that the walls, floors, and adjacent surfaces are properly waterproofed and sealed to prevent water leakage. Utilize appropriate sealing materials and techniques recommended for your specific tub installation.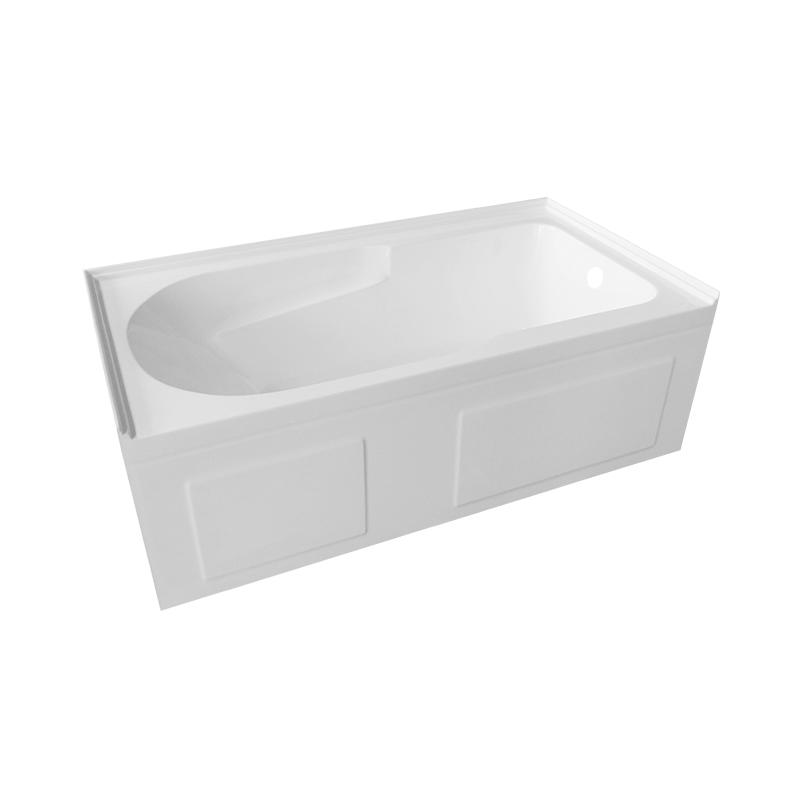 Product model:WTM-02001-1780
Dimensions:1780*835*590mm(70"*32.8"*23")
Overflow and Drain: Included
Overflow: Included
Drain: Brass Pop-up Drain
Waste Pipe: Included
Function: Soaking
Material:Pure Acrylic
Finish:Glossy
Color:White
Weight:48kgs (5% tolerance)
MOQ: 20pcs
Certificate: cUPC, CE, ISO 9001:2015
Package: Standard Carton / Honeycomb Carton
Delivery time:30-45 days