Tips For Choosing Alcove Tubs
Today, alcove bathtubs have become extremely popular, thanks to their unique design.
Not only do they fit into a smaller space, but they also provide all of the benefits of a traditional bathtub. Here are some tips for choosing one for your bathroom. Here are the basic measurements of an alcove bathtub. If you have a small bathroom, you may want to choose a deeper model, as deep alcove tubs provide a more relaxing bathing experience.
The height of an alcove bathtub is usually lower than the height of the ceiling. They are available in various sizes, allowing you to choose the perfect size for your bathroom. Alcove tubs are typically made of two layers of 100% polished white acrylic, reinforced by a sturdy fiberglass middle layer. To make installation easier, you can choose a tub with a flange. In addition to the length, you can also find tubs with a skirt in different styles.
The materials used in alcove bathtubs vary in cost. Fiberglass tubs are the cheapest and easiest to install, while acrylic tubs feature hardened acrylic layered over fiberglass. Acrylic tubs are cheaper and easier to install, and they are both relatively lightweight. Some people prefer fiberglass over acrylic because of its ease of installation. But regardless of the material, you can easily find an alcove tub that matches your bathroom's design and style.
The cost of an alcove tub depends on what materials and features you choose. While a standard acrylic alcove tub may cost as little as $700, an elaborate drop-in acrylic tub may cost upwards of $18,000. A fiberglass alcove tub is cheaper than an acrylic one, but will require a stout delivery crew. However, copper bathtubs are the ultimate in bathroom couture, and can cost anywhere from $4,000 to $50,000. Enamel steel bathtubs are also reasonably priced. Although they are not the most stylish or durable, they are hard-wearing and scratch-resistant.
When choosing an alcove tub, remember that space is a major consideration. Since they fit into a tight space, they can be very inexpensive and last for many years. And because they can be easily cleaned, they are a great option for bathrooms with limited space. Additionally, alcove tubs are often easy to maintain. Some alcove bathtubs even have showers and jets to add even more luxury to the space.
The dimensions of alcove tubs vary, depending on the manufacturer. A standard size is 60 inches long, 32 inches wide, and 16 inches deep. Other styles may be more square than rectangular. The size of alcove bathtubs is dependent on the size of your bathroom, so it's important to determine your bathroom's measurements before buying. If you have an open floor plan, an alcove tub may not be the best choice for your bathroom.
Depending on the size of the space in your bathroom, you can choose a smaller or larger alcove tub. Standard alcove tubs usually range from $295 to $500. Larger tubs with additional features may cost $1,000 or more. If you choose to install your new bathtub yourself, it can cost between $150 and $200, depending on whether you're hiring a contractor or doing it yourself. Adding jets, a built-in shower, or other extras will increase the cost of the tub, but these can be easily installed with a DIY approach.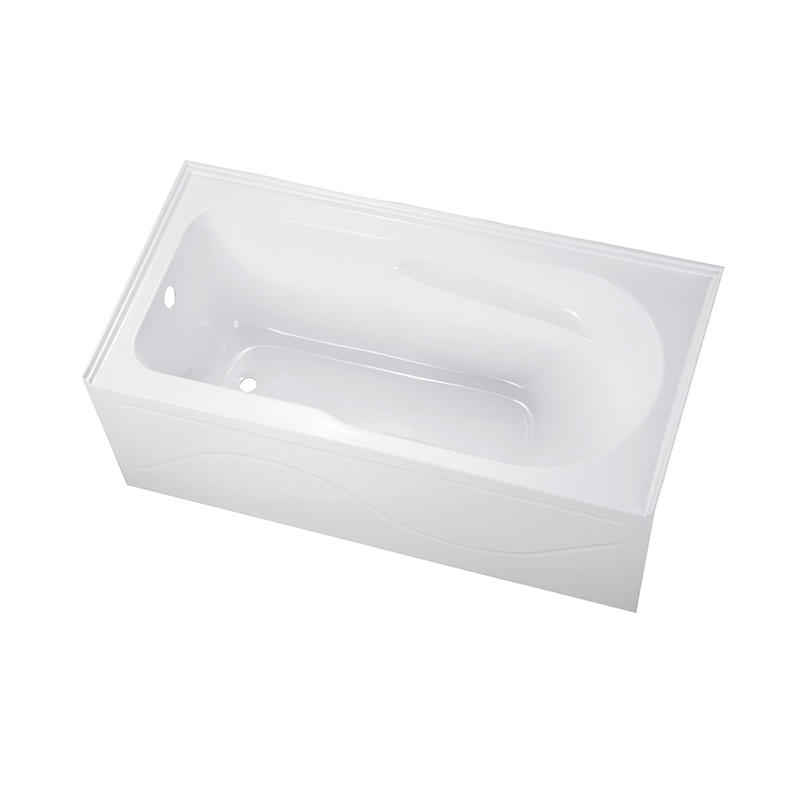 Product model:WTM-02840L/R-1524
Style: Left Hand/ Right Hand
Dimensions:1524*813*525mm (60"*32"*20.7")
Overflow and Drain: Not Included
Material:Pure Acrylic
function: soaking
Weight±1KG:27
MOQ:20pcs
Finish:Glossy
Color:White
Drainage: No
Certificate: cUPC, CE, ISO 9001:2015
Package:
Standard Carton/ Honeycomb Carton
Delivery time:30-45 days