If you are looking for a new bathtub and want to save money, there is one choice: Acrylic Aclove Bathtub. This tub has the look of a traditional aclove bathtub but is constructed of acrylic instead of cast iron. Acrylic is a clear liquid substance that is usually mixed with glue. These types of tubs can be found in different shapes, sizes, colors and finishes. Acrylic has many benefits over other materials that are used to make bathtubs.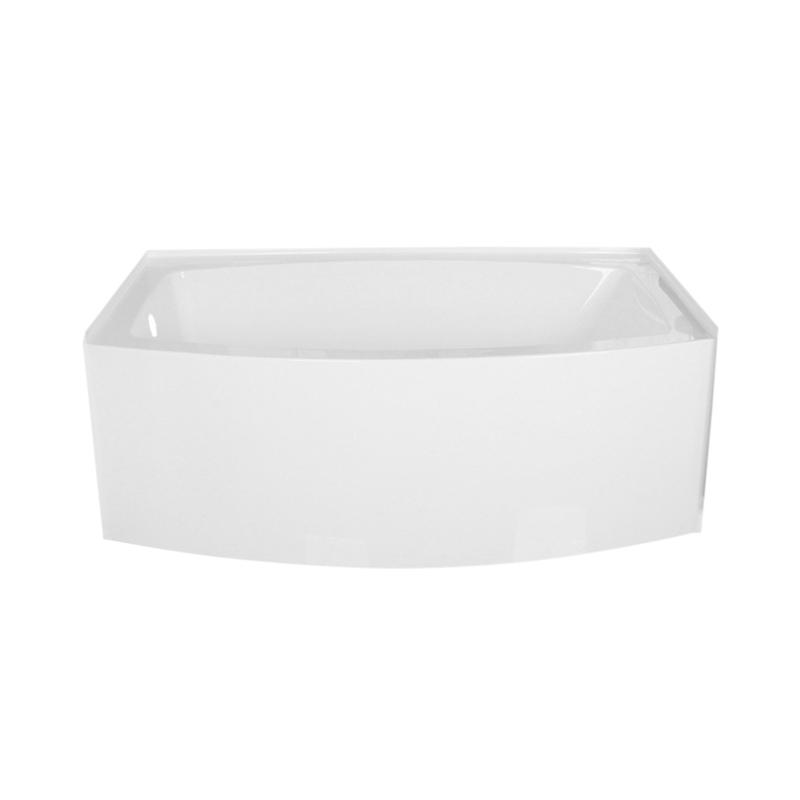 Acrylic is more affordable than cast iron. Because it is not as heavy, the tub will be easier to move around and will not become clogged with debris over time. Because acrylic bathtubs are easier to clean, they save money over time. Acrylic does not absorb stains as quickly as cast iron or porcelain do.
There are many different finishes available for Acrylic Bathtubs. Acrylic is available in clear, dark wood grain look, chocolate brown, champagne gold, and many more. The finish depends upon what color you would like to have on your tub. Dark wood grain look Acrylic bathtubs are a nice touch for bathrooms. This type of tub looks like it was made from an old antique tub. This bathtub offers a classic look and is relatively easy to care for.
Aclove tub is also a good economical choice. It can save up to 50% of the cost of buying a more expensive bathtub. Because Acrylic is a cheap material, it can be produced in large quantities. You can save more money on your heating and electrical bills. It is also a material that can be recycled.
Waltmal bathtubs are made from a unique material that doesn't crack, chip, or break easily. Waltmal acrylics are also known as glass-reinforced acrylic. The tub is made so it doesn't leak or splinter. This can make the Waltmal bathtub extremely beautiful to look at.
Waltmal bathtubs are usually smaller than most other bathtubs. It offers a great lower profile design. They are perfect for smaller bathrooms.
Waltmal Acrylic bathtubs are available in a wide variety of colors. Black, blue, red, white, and green are common color choices. They can add elegance to any bathroom. Waltmal Acrylic bathtub is durable, lightweight, and easy to clean. The Waltmal bathtub is a very popular choice and is now becoming one of the most popular bathtubs on the market.
If you are looking to save money and you need a new tub, you should definitely consider an Waltmal Acrylic Tub. The cost may be a bit more than you are used to paying, but it will be money well spent. The tub will last. You won't regret the purchase.
There are other things to consider when purchasing your Waltmal Acrylic Bathtub. This tub is made with the new Waltmal seal technology. This new technology is a breakthrough in tub construction and has saved the customer thousands of dollars. The new agent technology will not rust or deteriorate. This saves you time and money from repairs.
The Waltmal sealed construction also creates a larger saving on water. The large interior makes the tub less likely to become clogged with soap scum. This feature will reduce the amount of detergent used, saving you even more money on detergent. The save on water can help you with your heating bill, which is why it makes sense to install your Waltmal Acrylic Tub in your home.
The cost of this tub is currently around two hundred dollars, but you can expect to pay closer to five hundred dollars if you are going with the Waltmal sealed tub. Installation can be done by most any do-it-yourself homeowner, but it is better to have a professional help. The Waltmal company can give you an estimate and give you the proper instructions for installation. They can also make sure that it is completely safe for use in your home.
Installing your Acrylic Bathtub will save you money. It will also save you time from having to wash out the old one and replace it with a new one. You can also use less detergent, allowing you to save money on detergent, and have a cleaner bathroom. When you install your own Waltmal acrylic bathtub, you will save money on monthly household bills and have a cleaner, safer bathroom.